PR Public Relations vs Advertising
PR Public Relations vs Advertising – if you are confused about the difference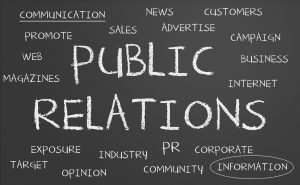 between PR and advertising, Fleur Revell has some answers: (nb. in this article we combine the term PR and Public Relations together as PR Public Relations)

Q. What is PR public relations and how is it differentiated from advertising?
A. PR Public relations is the management of information flow between an individual or organisation and its public.
In contrast – advertising is what you say about yourself whereas as PR Public Relations is what others say about you.
Q: We're under increased pressure from above to rationalise our marketing budgets across the board. Ad spend is down and marketing generally is seen as an area in which to make cost savings. From a PR Public Relations perspective, what are your thoughts on how this should be handled?
A: Investing in PR as part of your marketing mix can give you a key competitive advantage. PR and advertising can definitely co-exist and offer an excellent return when they're used wisely, particularly when marketing budgets are tight. A successful PR campaign should deliver you three times your spend, dollar for dollar in rate card value.
Q. But don't I get PR Public Relations as an advertiser?
A. On the face of it you may receive "added-value placements" with your advertising bookings. This is something we see routinely being offered to our clients to encourage advertising spend – now more than ever. This strategy works to a degree in magazines but obviously general news media are not influenced by ad spend
Q. Are there any products or services particularly well suited to PR Public Relations?
A. There are certain characteristics of a product or service that lend themselves well to PR. Anything that is luxurious, tasty (e.g. chocolate), new, unique and/or generally appeals to females aged 20-30 is going be easier to get media coverage for. The reason for this is that there is a plethora of consumer media (magazines in particular) and the journalists and readers of these titles are mostly female aged 20-30. If your product doesn't have these brand characteristics then your PR consultants can come up with a strategy that presents your product in the best possible way to secure editorial coverage.
Q. What's the overall value of PR Public Relations in terms of my marketing dollar?
A. There is no substitute for having a third party recommend your product in a respected media title and even better if they do it for free!
Q: Where should my focus be?
A: The core of your PR Public Relations strategy should focus on generating editorial PR. Simply, it provides most bang for your buck. Time spent by your PR consultant generating editorial coverage in general news, trade and consumer media will generally yield the most credible and comprehensive outcomes in terms of media coverage
Q. How can I get the most out of my PR Public Relations spend?
A: Ensure you have creative/professional imagery to go with the editorial – it can make a huge difference to the appearance of the article in a given title.
Don't skimp on samples for media – they notice. You won't look like a thriving prosperous company if you're stingy with the samples.
 If you are selling a commodity, think about how you can present this as an added-value product to media. For example, if it is flour or sugar it can be turned into biscuits.
Ask yourself whether you are better paying for PR on a retainer or on a project basis. You may be better off going project by project as the need arises rather than an evenly spread monthly retainer payment.
Q. Any other suggestions?
A. In terms of rationalising your PR dollar I suggest looking closely at launch events. Events tend to be high cost with limited guarantee of media coverage. If you are planning on hosting an event solely for media coverage, my advice is to forego it. The same amount (and most likely more) editorial coverage can be secured by an agency with well developed media relationships – usually for a fraction of the event budget!
Similarly, if you are sponsoring events, it's critical to ensure you are able to effectively leverage your association. In my experience, companies (after handing over sponsorship cash or product) almost always fail to allocate budget for leveraging their association. They incorrectly assume this will be carried out by the event management. Make sure if you are planning on sponsoring an event that you put aside enough money to create some hype and attention around your involvement in it.