Auckland PR Expert Casts Doubt on Success of Christchurch Cathedral Marketing Campaign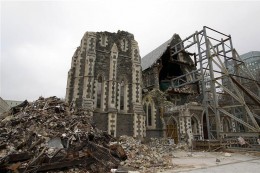 In a front page article of the Christchurch Press devoted to analysing the potential public relations success of a new nationwide campaign to save the city's iconic Cathedral from demolition, Impact PR's director Fleur Revell was asked to provide her expert insight:
The six-week campaign was launched by the Great Christchurch Building Trust (GCBT), and includes billboards, newspaper advertisements, a Twitter handle, Facebook page and a website.
"The hope is that we will be able to change opinion in the city from 'it's a ruin' to finding a way forward to repair it that would not cost the ratepayer anything," GCBT co-chairman Jim Anderton told the paper.
However, the GCBT approach – which includes opinion pieces and supporting documents that the public need to read via the official website – puts too much of the onus on people to do the research themselves and needs a clearer message, says Fleur Revell.
"This campaign does have the ability to bring to life the debate once again, however my advice would have been to spell out the compelling reasons why the Cathedral needs to stay in a more convincing way," says Revell.
"It's important that as part of this campaign they introduce some compelling new information to light as it's already well been well publicised to date. There needs to be something sufficiently new and of interest to the general public that will encourage them to act in support of halting the demolition."
Revell suggests the organisers need to offer independent evidence demonstrating the Cathedral is salvageable, and recruit a credible local opinion leader to become the face of the campaign.
"The public need a strong call to action, and an explanation of what they need to do to ensure the demolition is halted," says Revell. "It is also key the public believe their action will make a difference if they become inclined to get involved."
One of the best things the GCBT could do is conduct quantitative research to demonstrate the support that currently exists, says Revell, and make key decision-makers aware of those figures.
Meanwhile, ensuring the message is communicated in as many ways as possible is important too. "Marketing works on frequency, so by spreading the message across multiple platforms there is a greater chance of engaging and holding the interest of their target audiences," explains Revell.
"But poorly-supported social media or Facebook pages with few likes/fans will work against the campaign. Consumers generally do not wish to join a lost battle at the eleventh hour."
If the campaign strikes the right balance, Revell believes it could influence public opinion on the proposed demolition, and ultimately shape the decisions made about the future of the building.
"We believe that with the right resourcing, facts, timing and strategy the public's opinion can be influenced and change can be induced," adds Revell.