How Big Brands Rock Small PR Budgets

Some of the best marketing outcomes are pulled together on a shoestring budget. We look at one recent example of how an iconic New Zealand brand leveraged a small PR budget successfully.
Frucor contacted Impact PR to help leverage a partnership with popular Kiwi comedy trio Dai Henwood, Ben Hurley and Vaughan King.
The last minute association with the nationwide comedy tour for the Fresh-Up brand meant available marketing budgets were limited.
Based on past project successes with Impact PR and understanding their ability to drive ROI from a small budget, the decision was made to ensure marketing activity was limited to the agency's traditional public relations strategy.
Impact PR generated a comprehensive PR plan which saw the communications agency draft customised press materials which were relevant to each regional town or city the comedic tour would visit. Impact PR followed up dozens of journalists, editors and news producers to ensure maximum exposure of the upcoming tour and to drive ticket sales.
Within a matter of weeks, Impact PR was able to secure an impressive 24 interviews on local radio, newspapers and online media
With public relations the only driver of ticket sales, tracking the media coverage against daily revenue conclusively demonstrated the power of public relations in meeting short term objectives.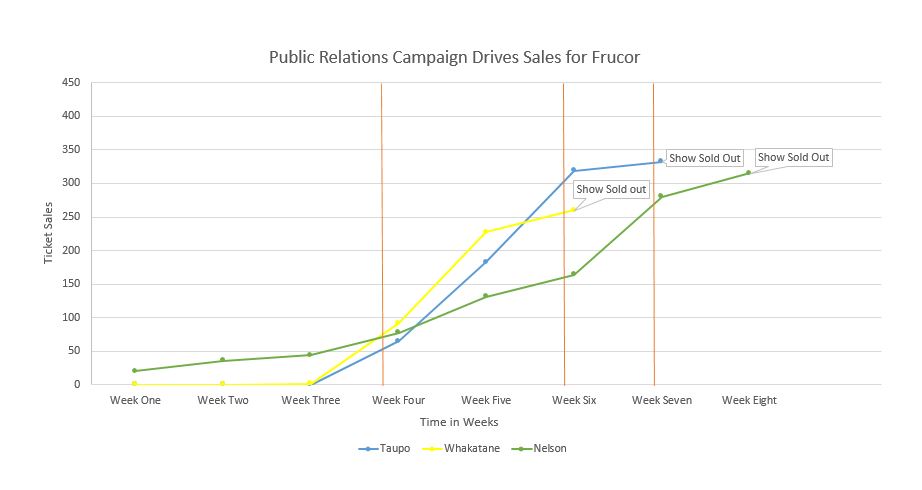 The graph shows significant spikes immediately following coverage being published. Each of the tour venues highlighted in the graph sold out within 7 weeks.
The comedy tour partnership was a spectacular success with over 78 articles and interviews offering fresh-up branded news coverage throughout New Zealand's provinces.
Sell out ticket sales meant more Kiwi's were exposed to Frucor juice product samples provided at the events, better alignment with the brand comedic advertisements and brand positioning and endorsements from the much loved entertainers.